Atlantic's Typhoon Air Pumps feature weatherproof, continuous duty diaphragm compressors specifically designed for year-round usage. Ideal for aeration and circulation in warm weather, these aerators are especially dependable for de-icing and gas exchange in freezing weather, unlike floating de-icers that often fail under harsh conditions. With diffuser options for ponds from 1,000 to 12,000 gallons, Typhoon Air Pumps adapt to most backyard ponds. Best of all Typhoon Air Pumps are easily rebuildable and exceptionally efficient!

Mini Aeration Kits
Dependable aeration for smaller ponds 5' deep or less
Replaceable diaphragm cartridges extend service life
Weighted air stones with rim guards stand up to multi-season use

Professional Aeration Kits
High output for larger water gardens and koi ponds with greater oxygen demand
High efficiency non-clogging diffuser tubing is less restrictive than stones or rubber diaphragms for greater flows and longer pump life
Circular diffuser design maximizes upwelling and water circulation and gas exchange
Diffusers come unweighted to reduce shipping costs and will require filling with your choice of sand or gravel


Maintain maximum O2 levels in summer, gas diffusion in winter
Easy to clean air filter reduces particulates for motor longevity
Most cost efficient way to keep an area free of ice in winter
Aluminum housing radiates and reduces heat to extend diaphragm life
Replaceable diaphragms for extended service life
Includes ⅜" insert fitting for most vinyl air tubing or use stainless steel band clamp (not included) with ½" tubing over outlet
::TECH TIP::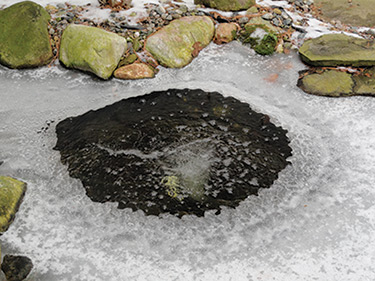 It's important to change the position of the diffuser seasonally where temperatures drop below freezing. In warm weather set the difuser deep to circulate and oxygenate the pond right down to the bottom. In winter move the diffuser to the shallows to keep a hole clear of ice without disturbing deeper, warmer water where fish and frogs will shelter.